"what was totally brilliant  was  discovering that Hope can come from the outside, when the inside is not registering anything other than constraint."
So the IPCC report is in……
Having trouble reading it? Overwhelmed? Depressed? Afraid for the future, angry at Government inaction? Accepting our fate ? More convinced than ever that you/we can make a difference ? Or just plain numb, don't want to go there?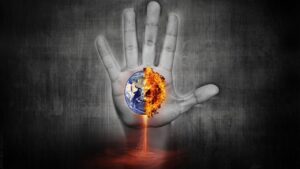 Join us in a 3 part facilitated exploration of how we navigate our way through these uncertain times
Sometimes
we need support to 'face in' to these uncertain times, find hope and generate a sense of  agency within the powerful dynamic forces at play right now. Emitting Hope is a program designed to do just that.
We  believe in going beyond facts, beyond positional conversations because we know that real dialogue exists beyond facts, beyond single views and simple answers. We explore multiple intelligences  accessing
MIND – developing awareness of multiple perspectives
HEART – the wisdom of feeling and transmuting strong emotions
BODY – listening and responding to emergence
Collectively we will
Honour the intelligence and limits of our feeling states
Be in generative conversations
Find hope in action – agency within the overwhelm
Harvest some hope emissions by connecting with others
3 x 90 minutes – that's a good start on positive emissions
Participants in our  pilot program said
"So I think and feel that what has been generated through the workshop process goes beyond Hope and into Compassion and into Acceptance, into Empathy and into Forgiveness. – I discovered that Hope is transferable, it can be given as well as found, received as well as located."
"Anywhere we get to share a diversity of perspectives is of value. It helps me to locate my rigidity introducing some oxygen to open us up. For me this builds resilience for difficult conversations – learning to love the people  who annoy us".
Join us and  support your agency in the world.
WEtalk is a Wicked Elephants signature program. Our aim is to meet one another in a different quality of conversation, conversations that allow all of us to show up – thoughts, feelings, shadows, playfulness. We bring people together in innovative ways, to access deeper currents and make collective sense – a response to the nonsense.
WEtalk series: Emitting Hope
3 Saturdays: Oct 9th, 16th, 23rd Oct
9.30 – 11.00 am AEDT  
(Friday evenings for our US/Canadian colleagues Oct 8, 15, 22nd)
$75 AUD, Bring a friend for free, or please request a supported place – we'd love to have you join us.
We're offering this in a time zone to include our global audience.
Check your time zone and please join us.
Sign Up by clicking the link