If you weren't watching the signs, didn't notice what was building behind and around you, the landscape you once knew has disappeared. 
We're in a white out…
White Out is an upcoming conversation series offered by Wicked Elephants (WE) to explore one of the greatest elephants in the room…the elephant of racism – internalised and systemic racism. Like all wicked problems, there is no one action, no one book or course, no one solution. WE cannot offer known pathways, what WE will offer is an intentional facilitated conversation, a gathering place for these much needed conversations.
This world of white is called a white out and in alpine regions and  back-country skiing a white out signals a dangerous situation. Disoriented, we find it hard to know which way to go, or which way is up. Everything is just so white. There are no landmarks anymore, the map is no longer a clear pathway. We have to pause, reorient.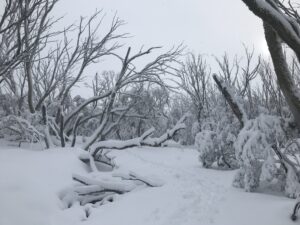 If I apply this metaphor to my life I would with some shame admit that I have lived in a white out most of my life; surrounded by white people, taught by white people, governed by white people and still friends primarily with white people. Like in a white out I'm being called out by Black Lives Matter to pause, reorient.
Within this white out there is no simple binary of racist and non racist there is only a continuum –  [a spectrum] of racism that all of us white fellas are on. I am somewhere and you are somewhere else and this shifts all the time. 
I acknowledge that this has cost the safety, the dignity, and the respect of my Aboriginal brothers and sisters and perpetuated systemic racism. So, together at WE, we ask: to emerge from the white-out in the context of Black Lives Matter, what do you need, we need, to find our way through this and survive?
Our placement on this continuum is not set,  nor is there a need to judge our progress. There is, however, a need to explore this white out, our fragility around this issue, and the long overdue call out to be proactively anti-racist – to take action. 
Let's take action together: Join us for 4 conversations – register here!
Dates: Weds 16th, 23rd & 30th Sept and 7th Oct
Time: 6 – 7.30pm 
Cost: By Donation in the range of $40-$200. 80% of monies will be distributed to Indigenous organisations and 20% to cover WE costs.
Back to the blinding journey…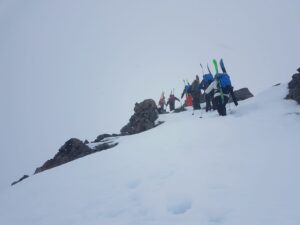 ….sometimes I cannot see the person in front of me let alone the tip of my ski. The whiteness doesn't lift, instead the temperature drops, the group I am in slows down, there is a palpable shift, all chatting has ceased. The leader gathers us in, she focuses us on the very real dangers that now face the group, she encourages our calmest minds and our keenest attention. Losing a ski on the ridge line, while taking a ski skin off could bring on a most serious situation. No care helicopter flight will be sent out on rescue today. One of our party is struggling and falling often, we divide up his pack contents. Already laden down with personal gear, ropes, ice axes and ski crampons, we hope we have all the tools we might need, we have diverse levels of experience, I silently question whether this will be enough! 
What if we approached our experience of this white out blindness with the same attitudes: slowing down our conversations, listening deeply, focused care-fulness, appreciating that we are all in this together and need to care for one another – all we need is courage (from the French word la coeur- the heart) and a held situation in which we can draw this out.
Pause, gather and yet keep moving, our leader challenges our friend to get up faster – to not stay buried – to not give in to his tiredness. She throws a 3metre orange rope out ahead, if the rope disappears, she throws it again looking for the ridge line rather than the drop off. No-one can safely take a slide at this time into the invisible valley below. The path is slow, the day is long, we make it our destination hours late, and by head torch. The next day we do it all again, minus throwing the rope out to find a safe path- that technique belies a serious white-out; this is a true story in avalanche prone steep country in the Craigieburn Range in Aotearoa (New Zealand) 2019.
Pause, gather and yet keep moving…engage with this elephant.
In signing off in the recent ABC-TV Australian Story about his life, Stan Grant an Aboriginal journalist named many of the stages and struggles Aboriginal people in Australia have mounted and survived. For this last stage he asked:  
"Will You Join Us…?"
I want to answer with a resounding YES-  WE say let's do our own work together, not relying on experts, not relying on Aboriginal teachers in this instance, relying on each other…just like in our high country white-out!