Youth want to build an adaptive future with justice.
When I was a teenager, I dreamed of a good job and meaningful work. Now, as we witness  unrelenting climate catastrophes—like the fires in New South Wales, Queensland and California, and the record floods from the American Mid-west to Venice, Italy— our children dream only of avoiding parching droughts, choking fires, supercharged storms and economic collapse. 
On September 20, over 4 million people took to the streets during the Global Climate Strike to demand action for a liveable future. Most of these marchers were high school and college students.
Marchers find themselves lost without a map in a collapsing ecosystem, while our world leaders act more like children fighting over toys. Strikers want to know what they can do. They want to know how to build an adaptive future with justice. They are turning away from a culture based on competition and consumption. But they are in the midst of an intergenerational transmission crisis—a sense making crisis—a legitimacy crisis. 
How do we, as elders, mentor these young people and support them to move into this uncharted future and build alliances across difference? How do we step into the intergenerational transmission crisis, and model a culture where  we are for each other? At Wicked Elephants we think the key is to create combat-free zones where we enliven/create small teams of passionate people who take action.
Combat-free zones are where we meet.
To help create combat-free zones in my work with college and high school students, I embrace collaboration; I acknowledge that the older, slower-moving elephant in the room is me; I support and challenge my students' skill development; and I offer them clear pathways to action.
To collaborate with youth, we need to meet them where they hang out. In schools, coffee shops, and Climate Strikes. We need to create events where they can be the experts. We need to create events where they can lead and organize. We need to give them opportunities to be successful and give them street cred for their resumes. And we need to show up at their strikes.
In 2018, as a Citizens' Climate Lobby (CCL) member, I partnered with three students in the Environmental Science department at Westminster College. I'm not a professor or high school teacher, and I think this gives me more latitude in working with students. I invited students to develop an environmentally sound economic transition plan for Carbon County, Utah (Utah mines ~19,000 short tons of coal annually). The three students who picked my project, directed the project. I consulted. I made introductions to people in the know. Jackson Podis, one of the capstone authors said, "Most of the first-hand information that I collected in my project was from the people who my mentor connected me with, including professors, CEOs, and blue-collar workers, who I then subsequently interviewed." 
But it doesn't end with an introduction. I helped them focus on the strongest parts of their research and keep focused on the big picture. I coached them on how to build slides and present their findings. The project was so successful that a small group of venture capitalists have used the report to aim at transition investment. This experience helped my students land jobs and I got invited back to teach another capstone course!
'If I can't dance, it's not my revolution!'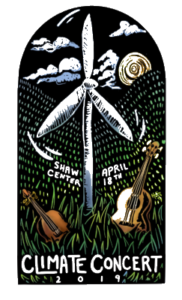 Remembering that famous Emma Goldman quote, the next year, I took an entirely different approach, directing three graduating seniors to organize a campus Climate Cafe— a bluegrass concert and art showcase—to raise awareness about climate change. It was "event management 101" on steroids for my student team who thought they would have an easy time of it. Many work hours later, they saw well over a hundred students (close to 10% of the student population) fill their temporary dancehall (a modified portion of their cafeteria). For three hours, students danced, made tee-shirts, viewed art, gave away stickers, and signed letters to congress. CCL  quadrupled our Westminster student membership that evening and I got to watch the dance floor light up with cheers for our carbon fee and dividend bill, (widely supported to be the best way to reduce carbon emissions while not growing the government) presented at the band break. Yup. College students cheering and dancing over climate policy. 
As we were cleaning up, I mentioned to one of my students, Sally Miller, that I learned a lot about work-life balance from the team. They worked hard, played harder, and still got the job done. I thanked her for her passion. Later, Sally wrote to me and said, "I wasn't aware that you were learning from me! I was just doing my work and living my life. But I do think it's a cool lesson to keep in mind, because the climate crisis is a problem that will need to be solved for generations to come. Remembering that young people are more capable and balanced than folks who've been in the workforce for a while might think, will help us pass on responsibility to each next generation and continue a strong effort."
Collaboration and connection are refreshing.
I'm currently heading another project, training college students to give presentations on climate to high schoolers in science and art classes. The presentations are a collaborative effort and the college students are the content specialists, experts in the room and model citizens. The high schoolers go home with a "Take Action" plan. So far, we've reached close to 500 high schoolers and captivated our audiences, even in the most conservative parts of our very conservative state. 
Given the tremendous hostility that stains most political discourse, it's refreshing and enlivening to build these collaborative combat free zones with students. These efforts build our community, expand our social connections, and deepen our capacity for holding the frightening outcomes of unmitigated climate change. I make it a point to add an element of serious fun to my outreach efforts, and throw big student dinner parties here and there. Vegetarian with vegan and meat options. And homemade cake (not so vegan)! Most college students are away from home and miss all the fuss around "family supper." Plus, they're always hungry!